Currency
Find products
Newsletter
Sign up to receive latest news and promotions
Accessories
Isy Ochoa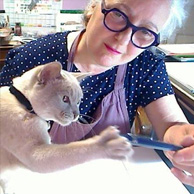 Isy, born in Paris, works in her Loir Valley atelier in France.
She is a graduate of the École Supérieure d'Arts Graphiques, Met de Penninghen, and Académie Julian.
Using a brilliance of colors, Isy's work captures the energy and pleasures of life as we would try to hold them in our most vivid and cherished memories.
She is known for her work for the French Post Office, having painted originals for multiple series of stamps. Isy also has a large following for her « nature-mortes » (still life) and cats.
France
Designs